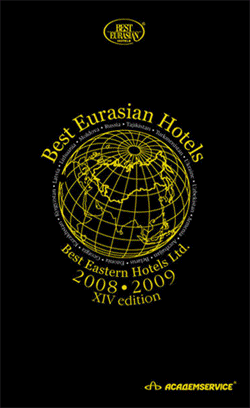 The new edition contains information on 804 hotels in 150 cities of the former USSR. The previous edition was seriously revised: new hotels have appeared, all misprints and mistakes have been corrected, some city maps have been added, the number of icons representing hotel services has been increased, codes of Global (GDS) and Alternative (ADS/IDS) Distribution Systems have been added.
The catalogue contains information about hotels of different levels. Hotel description includes information concerning hotel's location, official rack rates, check-in and check-out time, conference facilities, accepted credit cards, the nearest attractions, distance to airports, railway stations, river and sea terminals, metro stations, and contact information. Most of the hotels in the catalogue have color photographs.
Hotel classification, which was introduced before to compare hotels of different cities, hasn't changed. However the hotels' conformity to categories was again seriously revised. To assign appropriate category to a hotel the authors of the catalogue comprehensively analyzed all the factors related to it, namely: hotel location in relation to the historical and business centre of the city; architectural and historic importance of the hotel building; room conditions; affiliation of the hotel with an international hotel chain; management standards; list of services provided; rack rate level; hotel policy towards partners and guests, etc.
The catalogue has the circulation of 50,000 copies and is distributed among foreign embassies, consulates, Chambers of Commerce and Trade, air, trade and corporate companies' representative offices and travel agencies in 150 countries worldwide, at 30 largest international and national exhibitions.
For many years due to its wide geographical coverage and scope of information this catalogue has been the most popular guide to hotels in the ex-USSR territory.
You can get the catalogue at the office of Academservice and Best Eurasian Hotels in 28a Shipilovskaya street, Moscow.