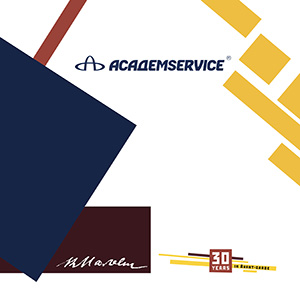 Academservice is celebrating its 30th anniversary in 2020. The new corporate edition is added by paintings of the famous avant-garde artist Kazimir Malevich.
"To be in avant-garde!"- vocation of "academicians" in various fields of activity, for example, in sales organization, implementation of new information technologies and many other things.
The booklet is published in Russian and English and it contains information about the company's achievements over the years in the Russian tourist market and CIS countries.
Some facts of the booklet
Academservice and marketing hotel chain Best Eurasian Hotels - owners of more than 20 awards and prizes in tourism.
The Academservice's contract base consists of more than 4500 hotels in 700 former USSR cities.
Almost all major Russian TMC's and online booking systems (Aviacenter, Continent Express, VIP service, Ozon.ru) are among the customers of Academservice.ru et al.)
Academservice's clients include heads of state and government of more than 17 countries, as well as the UN Secretary general, Director-General of the World Health Organization, the President of the World Bank, ministers, governors and many other high-ranking officials of the world community.
Most of the largest sports, music, cultural and business events in our country are supported by Academservice:

Winter Universiade (2019, Krasnoyarsk);
official events to the 850th anniversary of Moscow (1997);
Summit of the Big Eight (2006, Saint-Petersburg);
the World Sambo Super Cup (2011-2019);
The first WHO Ministerial Conference "Eliminating tuberculosis in era of sustainable development: a multisectoral approach" (2017);
Meeting of Ministers responsible for health and pharmaceuticals of The Organization of the Black Sea Economic Cooperation members (2016, Moscow);
theater festivals Golden mask and New European Theater;
concerts of Jose Carreras, Placido Domingo, Madonna, Paul McCartney, James Brown, Elton John, Jennifer Lopez and many others events.